CPAP Machine
CPAP Guide For Patients with Sleep Apnea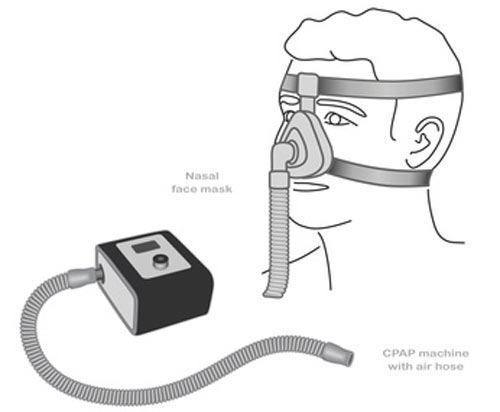 The CPAP machine is the most effective treatment for sleep apnea known today.
However, CPAP therapy is designed to manage apnea, not to cure it.
The machine must be worn throughout each night to provide maximal benefit.
Using a mask and a hose (tubing), the PAP machine is able to provide a continuous airflow into the back of the throat. This pressure splints the throat airway open, and allows for normal breathing.
To understand more about how a CPAP works, check this video:
What Are The CPAP Benefits?

Using the CPAP
effectively
every night, you will see positive changes in your quality of life, such as:
Benefits of CPAP Therapy

Before Using CPAP

After Using CPAP

From excessive sleepiness during the day

to daytime alertness

From being easily annoyed

to being more calm

From having headaches in the morning

to not having them

From having memory and concentration problems

to being more focused

From having high blood pressure

to reduce or cancel the use of medication,

From depression

to improved quality of life.

From having weight gain problems

to helping lose weight.

From sexual problems in bed

to healthy sexual activity
For more on positive aspects of using the CPAP, see CPAP benefits.
How do CPAP Machines Work?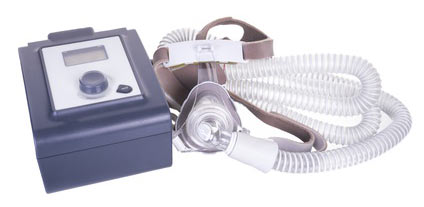 CPAP is used to treat mild, moderate and even severe cases of sleep apnea.
However, for complicated cases of central apnea, mixed apnea or Cheyne-Stokes respirations, the treatment requires the use of high-end technology devices, such as bi-level PAP device (BiPAP) or auto-adjusting device (APAP).
The air pressure setting from CPAP machine may differ from patient to patient. To find what is the best pressure to open your airway without causing side effects, you need a sleep study.
Having the correct air pressure from your CPAP
Higher than necessary CPAP air pressure can trigger central apnea events, which will aggravate your sleep instead of improving. The settings from your CPAP must be changed by a qualified person, not by yourself.
The following video describes what is CPAP and how does it work to give you air to breathe in the night:

Important features that CPAP needs to have

The CPAP machine has some features that help you increase the comfort when you sleep, such as:
Important Features in High Quality CPAP Machines
ramp feature - allows a gradual increase of the air pressure from a low level to the final prescribed air pressure. This feature is useful mainly for patients who need a high pressure to maintain the airway open.
humidifier - to prevent the nasal passages or the throat to become stuffy or dry. This feature is useful for every CPAP user.
memory card - to record the information from your sleep. This device records the necessary data for your doctor to analyze your sleep quality.
air filter - to clean the air before entering into your airways.
exhalation relief - to make exhalation against the CPAP pressure easier.
software - reporting of all compliance, pressure, leak and AHI parameters.
CPAP Manufacturers
Here are the most common CPAP brands:
Aeiomed - which doesn't sell CPAP machines since Oct 2010, but still provides customer support.
Side Effects from CPAP Machines
Although CPAP is a simple therapy, many patients have difficulties using the machine every night. Research has shown that 50% of those who do use CPAP will not be using it after 4 years. Other patients use the machine only a couple of hours in the night, instead of whole night.
CPAP users give up their machines because they don't know how to confront the side effects. These CPAP problems are very common, and learning how to manage them can improve the success rate. Here are some examples:
The next video is about a positive experience with CPAP. This man explains very nicely how things work, from his own experience:
There are patients with sleep apnea who gave up the CPAP just because they have not seen any positive result. Learn from their mistakes with help tips for CPAP users.
CPAP Chin Strap - Do You Sleep With Your Mouth Open?
CPAP users who have air leak problems receive a low level of pressure, so their therapy is ineffective. If you sleep with your mouth open and you don't use a full face mask, the CPAP therapy will fail.
A chin strap was created to help you sleep with your mouth closed, and is a great helper in this situation. Read More about CPAP Chin Straps
For more on problems with CPAP therapy, see CPAP Problems.
How to Choose the Best CPAP

If your doctor prescribes a CPAP, you need to find one that is good for you. Do not rush at the first CPAP shop. Take your time. Think about buying a car: you need to compare many dealers and products before making a choice.
However, your breathing machine is more important. You will spend more time with your CPAP than with your car, and you should start using your breathing machine soon as possible.
CPAP for Travel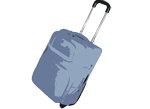 Are you planning a holiday overseas? Do you want to travel abroad? If you suffer from sleep apnea, you need to take your CPAP with you. Read more about how to choose a CPAP for travel.
For more on how to choose a CPAP from a shop, see Best CPAP Machines.
Cleaning Your CPAP Equipment

Cleaning your CPAP equipment can prolong the life of your machine, and protect your health from mold, dust, and bacteria.
Bottom line... The CPAP machine will eliminate the symptoms of sleep apnea, but it doesn't mean you will be cured. So, don't assume that you are treated just because you feel better. If you stop your treatment with CPAP, sleep apnea will return.
Questions and Tips About CPAP/Masks
Do you have problems with your CPAP or mask? This is the place where you can ask a question about any aspect of using the CPAP machine and mask issues, and I will give you an answer or help you solve the problem. It's free and it's easy to do.

Just fill in the form below, then click on "Submit Your Question".
What Other Visitors Have Said
Click below to see contributions from other visitors to this page...

Sleep Apnea Guide
› CPAP Machine