The CPAP Nasal Pillow
learn how to use the cpap nasal pillow to treat sleep apnea
A CPAP nasal pillow is a type of cpap mask with soft cones (pillows) that fit up against the nostrils rather than around the entire nose.
The little cones open into the nostril but are not inserted inside to seal.
Benefits of Using a CPAP Nasal Pillow
Many CPAP users prefer nasal pillows because:
it's easier to sleep on their side or stomach. In fact, you can sleep in any position!

is supported by people with facial hair.

minimal contact to the face.

in general, there are no straps against the cheeks, so any size or shape face will fit easily - without red marks the next morning.

they may soften the discomfort of having a cpap machine.

depending on the nasal pillow, you can find ways to adjust it so the fit feels right every time.
How to Fit the CPAP Nasal Pillows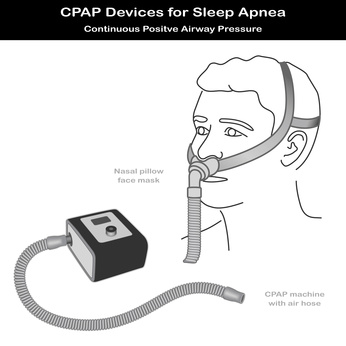 As any other CPAP mask, the nasal pillows can sometimes be challenging to fit properly. The most common issues with these masks are:
For a better experience with nasal pillows:
try to avoid the cpap pressure above 15-16, because some nasal pillows tend to leak.

test the fit of several nasal pillows.
The following video gives you tips on how to setup a CPAP nasal pillow:
Examples of CPAP Nasal Pillows
Resmed Swift LT
Resmed Swift LT nasal pillows system - is light on the face, easy to use and fit, and provides personalized comfort and unparalleled quietness for you and your bed partner.

Benefits of using Resmed Swift LT

is very light: only 2.3 oz (67 g).
is easy to fit: rotating barrel allows you to customize seal, and simple design makes it easy to fit and clean.
if you like to sleep on your side or on your stomach, this is ideal for side sleeping. It also has a quiet vent.
Dual-wall nasal pillows: seals softly for improved stability, comfort and reduced airflow into the nasal passages.
it's one of the most quietest nasal pillows system on the market.
allows tube to be worn over the head or either side of the face without interfering with side sleeping.
Resmed Mirage Swift II
Another device ideal for people who want a light, flexible system with a clear field of vision is Mirage Swift II Nasal Pillows System - sizes S,M,L.
The following video explains how to use the Mirage system:

Benefits of using Mirage Swift II Nasal Pillows
the Swift II mask is ultra-quiet and can help improve your sleep and that of your partner as well. The air vent is located on the frame instead of the cushion and disperses air gently downward more in line with natural breathing.



small, lightweight, and travel friendly - The pillows rest gently just under the nose. It folds up for easy travel. The minimal design creates comfort and helps users with better compliance and allows for reading or watching TV at bedtime even with glasses on.




Four interchangeable tube positions (up, down, left or right) for flexibility, comfort and more sleeping positions




Fits a wide range of facial and nasal structures




Assembly and disassembly are simple and easy, with very few parts, making for effortless cleaning or replacement of parts.
Tips for cleaning your cpap nasal pillow
Daily Cleaning includes:
Weakly Cleaning:
Separate and hand wash the mask components and headgear in warm, soapy water. Do not use soaps with added scents.
 Rinse the components well and allow them to air dry out of direct sunlight.
Precautions when you clean the CPAP nasal mask
Do not expose any part of the system or tubing to direct sunlight as it may deteriorate the product.
If any visible deterioration of a component is apparent (cracking, tears, etc.) the component should be discarded and replaced.
For more tips about cleaning the CPAP masks, click here.

Home

›
CPAP Mask
› CPAP Nasal Pillow