Travel with CPAP in South Africa - electrical requirements
by Vicki
(Montreal, Canada)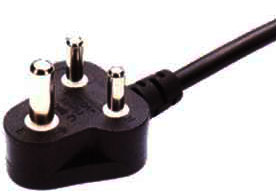 Plugs and Sockets from South Africa
Again I am turning to you for advice on travelling with my CPAP machine (Resmed S9 Autoset with H51). Is there any advice you can offer regarding electrical currency adaptors or water type requirements for travel to South Africa?
Thank you for being my best resource!
Answer
You really need a
grounded adapter plug US to South Africa
to use the CPAP machine. The plugs from South Africa are type M, or D (which are almost identical); however, the plugs from USA or Canada (type A or B) doesn't match with those from South Africa.
The
voltage
is also different: in Canada you have 110-120 Volts, but in South Africa the voltage is 220-240 Volts. So...you need a converter or transformer that will lower the voltage from 220-240 Volts to the Canadian 110-120 Volts.
If your CPAP machine is compatible with multiple voltages, then the adapter is all you need.
But how do you know whether or not your CPAP is compatible with 220-240 volts? You have to check the electrical input specifications which usually appear on a label on the CPAP, or on its charger or AC adapter if it uses one, near where the brand name and model number appear. It should look like this:
Input: ~100-240V 50/60Hz 65W - if you see something like this on your CPAP, the your device is compatible with multiple voltages. In this case, you will only need the grounded adapter plug.


Input: 115/230V 50/60Hz 200W - it means that your CPAP device can be switched between 110-120 volts in Canada, and 220-240 volts in South Africa.


If you have Input: 120V 60Hz 2.8A - it means that your CPAP device is only compatible with a single voltage, in this case, 120 volts. In this case, if you use the CPAP in South Africa without the voltage converter or transformer, you will fry it.
Fortunately, I found on ResMed website that all ResMed CPAP systems have a power supply that automatically adjusts to the various power supplies in different parts of the world. So you will only need the correct plug adapter.
I don't know how easy it is to find distilled water in South Africa, so you should already be prepared with the required quantity of distilled water.
Note
: Always carry your CPAP with you on board as carry on lugage. Don't check it unless you want the ground crew to use it as football. The CPAP is a medical device and it should be treated as such.
I hope it helps. Don't be afraid to comment back.
Remy Thierry
Founder of Sleep Apnea Guide