Sleep Apnea Contest
Share Your Experience With Sleep Apnea and win a prize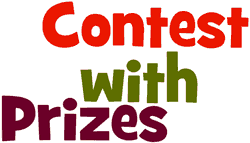 In celebration of writing our new book about the challenges of sleep apnea treatments, we're taking the plunge and running our first contest.
Share your experience (negative or positive) about sleep apnea and get a chance to win $125 at the end of this summer.
Your shared experience may be included in one of the book's chapters, where the reader can gain more knowledge about sleep apnea.
Contest Description
Sleep Apnea Contest is designed to encourage patients with sleep apnea or their spouses (that could be you!) to inspire other apnea sufferers to find an easy path towards effective treatment.
Remember how difficult it was for you to get this far with a sleep disorder like sleep apnea. You can be a hero motivating someone to move forward.
Contest Calendar: from May, 05, 2012 to August, 31, 2012
Prizes
Main Prizes
$100 - First Prize
$50 - Second Prize
$25 - Third Prize
Additional Prize
$25 - for Contestant with the Higher Number of Entries
Please Note:
How Do We Deliver the Prizes?
You need to have a PayPal account to receive the payment from us. We cannot offer you the prize in other forms of payment. Thank you for understanding.
Contest Rules
1. Your story must be original. It's obvious, because it's your unique experience, right?
2. Enter as many times as you want, sharing different challenges with sleep apnea. More entries, more chances of winning.Here are some examples of different topics to write about:
the quality of life before knowing you have a sleep disorder,
the situation when you where convinced you have a serious sleep problem (falling asleep at the wheel, spouse threatening with divorce, etc.)
the day of the sleep test in a sleep laboratory,
the frustrating or invigorating experience with CPAP therapy,
your experience with playing didgeridoo instrument, or with mouth and tongue exercises to improve sleep apnea.
your struggle to loose weight and the results.
3. If you prefer, use a name (not a nickname) that will not affect your privacy (ex: James, but not Ugly Betty :)) . You agree that your submitted name and story can be shared in our new book, as a valuable experience for new readers.
By entering the contest, participants grant Sleep-Apnea-Guide.com the right to use and publish their ideas and photos on the website and/or any other media.



4. All participants must provide a valid email address, which will be used to contact them in the event of winning a prize. Email addresses submitted to Sleep-Apnea-Guide.com will not be shared, sold, or disclosed to third parties, except as required by law.
If you do not provide an email address, we may still add your contribution to the site but it will not be an eligible entry to the contest since we will have no means of contacting you (sorry). 
So please do make sure you provide an email address.Contest void where prohibited by law. All federal, state, and local laws and regulations apply.
5. All contest stories submitted will remain available on this site for future visitors to view, even if the contest has closed.
6. Contest will run from May, 05, 2012 to August, 31, 2012. Lots of time for you to write your story and join in! :)
Note: We are not responsible for any entries not received due to any technical problems such as intermittent Internet connection, service breakdowns or delays, or any other glitches.
We reserve the right to reject any entry on the basis of unsuitability or lack of originality at our own discretion.
Criteria of Judgment
50% from Comprehensiveness of Shared Experience
We want others to learn something useful from your story and to inspire them to act fast towards treatment. If you have some detailed step-by-step instructions, it would certainly help a lot.
25% if Photos are Included
Sometimes, all it takes for a person to take action or get inspired is an interesting photo. Share your photo of your CPAP machine or mask, the sleep lab room where you were diagnosed, your dental device, etc. to get extra points.


25% from Impact on Readers
People can comment their opinions related to your experience. The more comments from them, the better. When you submit the story, we'll announce every subscriber from our newsletter or Facebook page to take a look.
 

Sorry, The Contest is Over!

Sleep Apnea Guide
› Sleep Apnea Contest