Fisher Paykel CPAP
Fisher & Paykel Sleepstyle 600 CPAP Machine Review
Fisher Paykel CPAP Sleep Style 604 has the world's most advanced humidification system, and is the preferred choice for patients requiring the very best in CPAP therapy air conditioning.
Plenty of websites, blogs and forums have good reviews about these products, about the improvement of the life quality of the patients after they start the therapy with Fisher Paykel.
So I decided to give some tips about Fisher Paykel CPAP machine, like how to set up, use and maintain your SleepStyle™ 600 series. In addition, I will cover some technical details for this cpap machine.
 SleepStyle™ 600 Fisher Paykel CPAP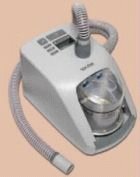 The SleepStyle™ 600 has a good reason to be one of the most common CPAP machines used by patients with sleep apnea:
Fisher Paykel CPAP SleepStyle™ 600 is the first CPAP in the world to constantly deliver optimal humidification with anti-rainout benefits.
ThermoSmart™ technology offers a unique heated breathing tube that allows the constant delivery of higher optimal levels of humidity and the prevention of condensation, optimizing patient comfort and sleep.
ThermoSmart™ clears the way for optimal therapy success and unsurpassed levels of patient comfort.
The Benefits of ThermoSmart technology from Fisher and Paykel SleepStyle 600
Prevention of condensation and gurgling noise.
Absolute mask pressure stability.
Optimal humidity to diminish the upper airway congestion.
How to Set Up and Use the Fisher and Paykel SleepStyle 600
Performance Features Offered in Fisher Paykel CPAP
Compliance Maximizer™ Software - Usage recording software
This software is a performance monitoring technology that records and reports on machine usage.
Customizable reporting formats and content are available for better therapy monitoring.
Fully Integrated System - A CPAP and humidifier into one unit
Quick and easy set-up
Compact and robust for travel convenience.
Hassle-free cleaning and maintenance.
Titration Maximizer™ Software - PC titration software
Software that allows sleep technicians to titrate remotely via a PC in their labs.
Software that allows sleep technicians to titrate remotely via a PC in their labs.
Titration is made more convenient for lab technicians as all patient data can be observed on the same PC screen during titration.
Leak Compensation Technology 
Identifies and compensates for mouth leaks (608 unit only)
By identifying and automatically compensating for mouth or mask leaks, this technology ensures the patient is effectively treated all night.
Maximizes therapy effectiveness.
Altitude Adjustment Control - Adjusts pressure according to altitude
Available with manual or automatic controls - the machine will adjust to compensate for pressure variations caused by changing altitudes.
Travel convenience.
Travel Tips for Fisher and Paykel SleepStyle 600 CPAP Users
Maintenance tips for Fisher and Paykel SleepStyle 600
In this video you'll learn how to clean and maintain your CPAP machine:
How to Clean and Maintain Your Fisher and Paykel CPAP?
Fisher and Paykel SleepStyle 600  Specifications
DIMENSIONS: 273mm x 170mm x 175mm(10.7" x 6.7" x 6.9")
WEIGHT: 2.1kg (4.6 lbs) unit only3.4kg (7.5 lbs) packaged inbag incl. accessories
ELECTRICAL RATINGS - Supply Frequency: 50-60 HzSupply Voltage and Current: 100-115V (1.5A, max 1.7A),220-240V (0.75A, max 2.0A)

Note: These values represent average current

DC to AC Inverter requirements:115V - 200W/300W surge230V - 300W/500W surge
Heater Plate : 85W max
Heater Plate Temperature: 65°C (149°F) max
Heated breathing tube Power
Setting: 30W max

PERFORMANCE

Pressure Range 4 to 20 cmH2O

Altitude Range 0 to 3000m, or 0 to 9000 ft

Warm-up time: 30 min
If you are looking to buy Fisher Paykel HC604 CPAP with ThermoSmartyou can purchase it at the sleep online store. 
Some more interesting pages for you to check out:


Home

›
CPAP Machine
› Fisher Paykel CPAP